Angelina Sondakh (Miss Indonesia 2001)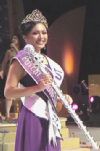 Angelina Patricia Pingkan Sondakh was chosen as a Miss Indonesia 2001 in 20th June 2001. She represented her province Sulawesi Utara (North Sulawesi) and became the second woman from outside DKI Jakarta (the capital city of Indonesia) who won the crown after Santi Manuhutu from Maluku won in 1995. The Final coronation was held in Jakarta Convention Centre and it was attented lively by the franchise holder of Miss Universe-Indonesia, Miss-World Indonesia, Miss World University-Indonesia and the head of Yayasan Putri Indonesia, BRA Moeryati Soedibyo and the current Miss Unvierse 2001, Denise Quinones from Puerto Rico.
She was born in Armidale, Australia and spend her school life in Presbiterian Ladies School, Sydney, Australia and continued in Atma Jaya University, Jakarta, Indonesia majoring in Economic. This 23 years old lady was not only smart and intelligent but she also able to speak 3 languanges (Indonesian, English, and Germany) and she was indeed very nice, kind, and pretty internally as well as physically. She was the youngest children and has another 4 sisters and brothers. Some of her greatest achievement including the Certificate of Merit Achievement in Chemistry recipient and also she became the tourist representative for Novotel International hotel in 1999.
During the Pageant, she was given an advice from many people and in the final night she was asked by one of the judges who was Andi Malarangeng (The famous young politician male in Indonesia). The question was "Do you agree if the government was ruled by man or woman?" and she replied by saying that in regulating the countries, it does nto matter whether you are man or woman because basically as long as you have the charism and inteligency to be a leader it would not be a matter and she was applaused by the audience. In Final question all the 3 finalist were given the same question and the question was "What is the biggest problem in Indonesia at the moment" and Angelina simply replied "The biggest problem in our country is disintegration". In the crowning moment, the Miss Indonesia 2000 Bernika Irnadianes Ifada did the last final walk and say farewell to the audience and then the announcement of the new Miss Indonesia 2001. Angelina was chosen and she was very surprise cause she thought that the 2nd Runner Up (Ni wayan Ekasari from Bali) would be the winner and as the matter in fact, she was counting Ni Wayan to be the winner. Angelina will now having a difficult and challenging task waiting for her in the next one year. She will travel to around the world to promote Indonesia as a tourist representative and after the pageant she stated that she would like to join the Miss Universe 2002 pageant next year and she was ready if she will be criticized by the people. "I believe that following the Miss Universe pageant will give me a big opportunity to introduce Indonesia to the world", she said and meanwhile, the franchise holder of Miss Indonesia pageant, Mrs. Moeryati Soedibyo stated that actually they ready to send a delegate into the pageant but unfortunately there was a law in the constitutional that always prevent them for participating. However, Angelina was such a beautiful, intelligent, smart, and nice woman and I believe that she will become the successful Miss Indonesia during her reign.

Congratulations Angelina!!!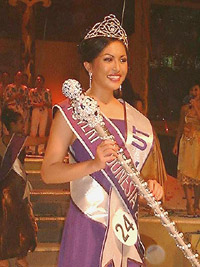 BIOGRAPHY

NAME : Angelina Patricia Pingkan Sondakh.
BIRTH PLACE : Armidale , Australia.
BIRTH DATE : 28th December 1977.
FATHER : Prof.Dr.Ir. LW SOndakh.
MOTHER : Ir. Saul Kartini Dotulong.
HEIGHT : 170 cm.
WEIGHT : 54 kg.
HOBBY : Reading, Playing organ.
ACHIEVEMENT : Miss Indonesia 2001, Certificat of Merit in Chemistry, Novotel tourist rep. 1999.








BRA Moeryati Soedibyo (Franchise Holder of Miss Indonesia)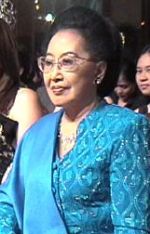 (PROFILE SOON)