Official Site
On 11th October 2001, the Miss Indonesia Unofficial (Website) was officially launched for the very first time with some of its early features such as Photo Gallery of Miss Indonesia 2001 coronation, #pageants in mIRC, Inneke Kusumawati of Indonesia as our 1st Member of The Week, and information regarding past Miss Indonesia winner since 1993. The website was starting to improve through time to time with much addition of another features. The "International" website was launched in November 2001 to celebrate the 1st Annual of Miss Earth, Miss International, and Miss World. Unfortunately #pageants was not successful as expected and therefore it was closed soon and substituted by a pageant forum called Miss Indonesia (Unofficial) Message Board. At the end of this year Miss Indonesia (Unofficial) was completed with the final election of our first Indonesian Beauty Representative 2001, and our final prediction list for the 4th Annual GB Awards, which was chosen by the Pageant fans from all around the world through voting poll.
Fan Of The Week
Through the years, there were 4 people who were proudly chosen as our Fan Of The Week and receiving the Arjuna Award.
1st Period
Inneke Kusumawati (Indonesia)
2nd Period
Arief Jatmiko (Indonesia)
3rd Period
Bobby Santiago (Phillippines)
4th Period
Ric Galvez (Phillippines)
The Most Beautiful Miss Indonesia

The first ever voting poll which was held by Miss Indonesia (Unofficial) website was the election of The Most Beautiful Miss Indonesia ever with 6 possible nominees : Indira Soediro (Miss Indonesia 1993), Venna Melinda (Miss Indonesia 1994), Santi Manuhutu (Miss Indonesia 1995), Alya Rohali (Miss Indonesia 1996), Bernika Irnadianes Ifada (Miss Indonesia 2000), and the current Miss Indonesia 2001 Angelina Sondakh. After 2 weeks given time to vote, Miss Indonesia 1996 (Alya Rohali) was chosen as the winner leading the other 5 Miss Indonesia with 57%. Venna Melinda (Miss Indonesia 1994) was in the second place with 29% votes and Bernika I. Ifada (Miss Indonesia 2000) in the third place with 17% votes. Congratulations to Alya Rohali, The Most Beautiful Miss Indonesia ever.
Indonesian Beauty Rep. 2001
There are so many beautiful women surrounding Indonesia. Women from different cultural background, ethnicity, custom, language, traditions, and intellectual mixing up into one harmony life in the land of Indonesia. Unfortunately there are not many chances for the world to see them through Beauty Pageants. Therefore, Miss Indonesia (Unofficial) decided to choose 5 remarkable Indonesian women from different field of profession and career. There are Sophia Latjuba (Politician daughter), Nadya Hutagalung (MTV VJ), Desi Ratnasari (Artist), Anggun (International singer), and Tamara Blezynski (Artist). After 2 months vote, Sophia Latjuba won the competition by 26% of vote and became our 1st Indonesian Beauty Representative 2001. Interestingly, there was a tie occured for the 1st Runner Up placement. Desi Ratnasari and Anggun was equally voted (21 %) and make them both became the 1st Runner Up. Thus, there is no placement for the 2nd Runner Up position. We shall come back next year by giving another incredible women to be nominated as our Indonesian Beauty Representative 2002. Congratulations to Sophia Latjuba !!
Miss Universe 2001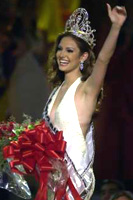 Miss Universe celebrates their 50th Anniversary this year. 49 beautiful young women were chosen for the last 49 years since 1952 to represent the beauty of woman from around the world. There were so many strong delegates capable to take the crown over from the 49th Miss Universe from India, Lara Dutta. The home town candidate Miss Puerto Rico, Denise Quinones was one of the strongest candidate along with the powerhouse pageant Miss Venezuela, Eva Ekvall. Another possibility came from another powerhouse countries such as Miss India (Celina Jaitley), Miss USA (Kandace Krueger), Miss Spain (Eva Siso Casals), and not to mention Miss Colombia (Andrea Noceti). The publication of the pageant risen up after Miss Brazil (Julianna Borges) was accused for having 19 surgeries in her preparation through the pageant and Miss France (Elodie Gossuin) was doubted as a transvestite candidate. Miss Korea (Sa Rang Kim) may proud with her "Best National Costume" award along with her court Miss Philippines (Zorayda Andam) and Miss Honduras (Olenka Fuschich) as runner ups. Moreover, the "Miss Congeniality" award went to Miss Bahamas (Nakera Simms) and Miss Puerto Rico grabbed 2 awards as the "Best Style" and "Miss Photogenic". On the final night, which was entertained by the famous Latin singer Ricky Martin, the 10 fortunate ladies who deserved as semifinalists were Miss Spain, Miss Venezuela, Miss USA, Miss India, Miss Greece, Miss France, Miss Russia, Miss Puerto Rico, Miss Nigeria, and Miss Israel. The top 5 was decided to be Miss USA, Miss Venezuela, Miss India, Miss Puerto Rico, and Miss Greece. Clearly that the 4 powerhouse countries still dominating the pageant through the years. The judges then decided that Miss India was 4th Runner Up, Miss Venezuela was 3rd Runner Up, Miss USA was 2nd Runner Up, and Miss Greece was the 1st Runner Up. Finally, the crown went to Miss Puerto Rico, Denise Quinones who claimed as the first Miss Universe won in their own home country apart from USA. Now Puerto Rico together with Venezuela placed second as the most winning Miss Universe title for 4 times.
Miss World 2001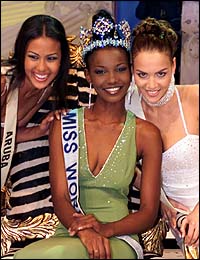 Miss World 2001 keeps a great memory this year. Miss Nigeria, Agbani Darego who was also a semifinalist in Miss Universe 2001 and Webmasters choice winner for Miss Universe 2001 won the Miss World title after more than 25 years the African always absent from winning the crown. Another memory was the failure of the quartet powerhouse pageants (Venezuela, India, USA, and Puerto Rico) to enter the top 10 semifinalist in Miss World 2001. Moreover, China who participated in the pageant after several years absent have successfully put their candidate Bing Li as a finalist this year. The island of Aruba had a great performance through Zizi Lee who ended up as a 1st Runner Up and the Scottish Juliet Jane Horne was a 2nd Runner Up. Lada Engchawadechaslip (Thailand) grabbed the Miss Photogenic award voted by people from around the world through the internet. Piarella Peralta, Miss Costa Rica received a Scholarship award and Miss Barbados was chosen as a Miss Talent. One last award the Best Evening Gown went to Miss Korea. The rest of the 10 semifinalist were Ukraine, Spain, Russia, Yugoslavia, and South Africa.
Miss International 2001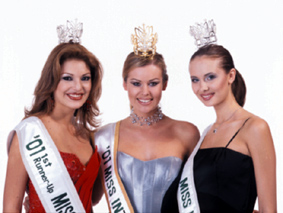 After the Latinas dominated the Miss International podium winner for 4 years in a row since 1997, now the Europeans may glad because they take back the Mss International 2001 crown back to the continent after 1996 since Greece won the crown. It was Malgorzata Rozniecka of Poland who took the crown from the hand of Vivian Urdaneta (Miss International 2000) from Venezuela. It seemed like a dejavu for Venezuela, in 1997 Consuelo Adler won the crown and the year after Daniela Kosan was almost made a back to back title for Venezuela and being a 1st Runner Up. Now it happens again, after Vivian Urdaneta won last year, a young lovely woman Aura Zambrano who considered as a Denise Quinones" from Venezuela almost made a back to back title by ending up in 1st Runner Up. Dejavu occurred for Russia as well by repeating their success as a 2nd Runner Up for 2 years in a row, thanks to Tatiana Pavlova. Another awards were won by Israel (Miss Photogenic), Korea (Best National Costume), and Norway (Miss Friendship).
4th Annual GB Awards
The final moment at the end of this year held by Miss Indonesia (Unofficial) website was the prediction list nominees for the ladies competed in Miss Universe, Miss World, and Miss International 2001 to be nominated in the 4th Annual Global Beauties Awards, the Oscar of Beauty Pageants. The Overall prediction list was voted by Pageant fans. After 1 month of voting the Miss Indonesia (Unofficial) has the list for all 12 categories of the 4th Annual GB Awards. Some of the delegates that dominated the list were Denise Quinones (Puerto Rico/Universe), Eva Ekvall (Venezuela/Universe), and Evelina Papantoniou (Greece/Universe). To see the overall list please go to our International Pageants site.